the power of magic | indie holistics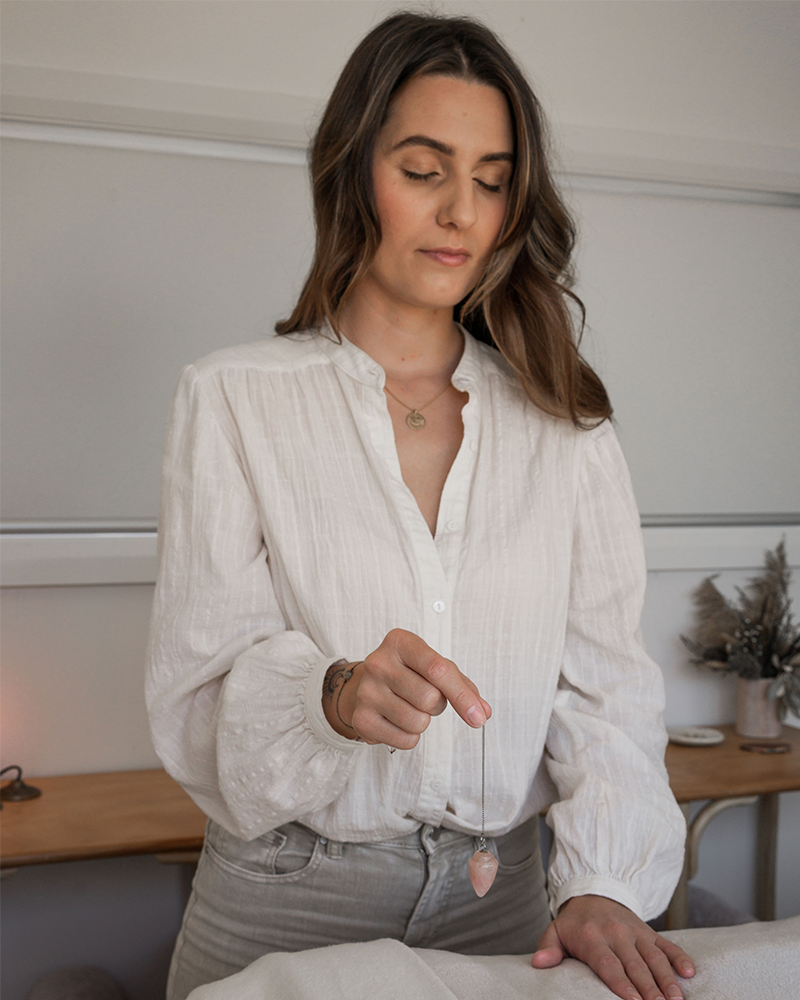 Self Care can be such a beautiful thing.. even 5-10 minutes to be alone + breathe… & if you can add in some Gua Sha.. it is a major bonus!
I met Lea when she has visited our shop & I had also come across her beautiful business on instagram.
I have been lucky enough to visit her in person for a facial, massage + reiki…. truly magical.
We are excited to have her share her love with our Power Of Magic series + also a little how to video with our KKJ Gua Sha.
x
How + when was Indie Holistic Beauty born?
Have you always been drawn to working in this field of mindfulness + self-care?
I am what we call a highly sensitive and intuitive person. Since childhood, the way I feel and perceive the world has led me to develop very strong empathetic abilities. When I turned 15, I knew that my future job was going to revolve around helping people.
I started studying beauty & massage 16 years ago, against my mother's will (I already had a strong personality haha). I couldn't explain why but I knew this would lead me to something bigger. From then on, I've never stopped learning as I'm very passionate and strongly believe in continuous growth and evolution. After noticing the undeniable connection between beauty and wellness, I became a Reiki practitioner to deepen my abilities to heal.
INDIE Holistic Beauty was born in my heart 4 years ago from a desire to connect the physical wellness with the emotional and spiritual wellness through mindful treatments and therapies. I officially opened the studio 1 year ago and I like to see it as a sanctuary, a bridge from ancient wisdom to the modern world.
'Indie' means welcoming and strengthening your uniqueness. It's a culture, a way of being, and a way of life. It is following your own compass and respecting your own needs. My mission is to create a safe space and connection while your own inner healer awakens.
I have been lucky enough to have a couple of magical sessions with you. 
Would you be able to share with us what you offer at Indie?
My treatment menu is small and boutique. It includes facials, massage, Reiki and facial reflexology (known as Vietnamese reflexology). Each treatment is personalised to suit your needs and I take great pleasure creating unique experiences by combining science, nature and luxury to nourish your mind, body and soul.
The INDIE Signature Facial is the most popular treatment, and its holistic nature relies on botanical extracts combined with a blend of advanced face massage techniques including, Gua Sha, cupping, lymphatic drainage, and sound and energy healing. For many, it is the most rejuvenating facial they have ever experienced, and they enjoy the combination of energetics and skin care which often, makes them book a Reiki session to deepen their healing experience.  
I want my clients to receive the most potent experience, that is why I only book a maximum of 3 clients a day so I can take the time needed to hold space for each of them on a much deeper level than regular spas or beauty salons.
What brought you to Byron Bay?
My husband and I came to Australia 10 years ago thinking we would stay only 6 months hoping to learn English and travel for a little bit. We could barely speak English so the first few months were very challenging! Within a few weeks, we both fell in love with the country and the lifestyle, so we decided to sacrifice all our traveling plans and work hard to be able to stay long term. After 5 years living in Perth, we decided that a change of scenery was needed so we packed our Land Cruiser and travelled around this sacred land. We've been to each state looking for the ideal place and only one felt like the perfect fit for our culture, lifestyle and making our dreams come true…Byron Bay.
With most of Australia in lock down, would you be able to share with us some simple at home self-care routines to help us recalibrate.
Being in lockdown is definitely not easy and it pushes us to face a few realities that are sometimes uncomfortable. Firstly, most of us understand that we are not meant to live a lonely life, focusing on purposeless goals… We are all interconnected, and we need each other. We need to come back to healthier lifestyle and mindset, in union with Nature. Secondly, we all need to know ourselves better and how to take care of our mind, body and soul. I believe that when you truly love yourself, you enjoy the process of getting to know you and your needs so much that you become addicted to self-care, because it feels amazing! The more you look after yourself, the more independent you become and the less pressure and frustration you experience.
The term 'self-care addict' defines me very well!
Self-care is doing things that makes you feel more like yourself so my number one tip would be to create your own self-care ritual based on your needs. I love taking some time each morning and night to do my skincare routine. I light a candle, take a few deep breaths, massage my skin mindfully to increase blood flow and get that famous glow… I also like to set a positive intention or mantra to infuse each action with love & light. Lately, I have been using facial reflexology a lot to support my nervous system and reduce my stress level. It is an easy yet powerful technique that anyone can learn for their own healing journey. You do not need any specific tool to start, and the effects are immediate!
The power of touch is incredible, and I receive so many messages from people wanting to learn face massage and reflexology in order to reconnect to their body.
Why do you believe in the power of magic?

I believe magic has many forms. From beautiful synchronicities to meeting your soul mate or your soul tribe, or any life changing experience…I believe magic is everywhere for those who are ready to see it. I have been quite connected to the universe and the invisible world since a young age, so I have had beautiful experiences teaching so much. Lately, I have been amazed by the effect of letting go and trusting the process. We are all divinely guided and we need to remember this when going through any kind of challenges.
"The universe has your back and things are happening for you, not against you."
- Rebecca Campbell
What are you favourite KKJ pieces?
It is so hard to only choose one so I will have to share two of them! I absolutely love my smokey quartz
Calming Quartz Choker
from the Embodied Love Collection which I wear every day. The second piece is my rose quartz
Gua Sha
which I use in my skincare ritual at night to release tension and stimulate the lymphatic system.
How To Use Your Gua Sha
Leah's professional tips to stimulate your lymphatic drainage using Gua Sha
Before using Gua Sha, make sure your hands and skin are clean.
Apply some face oil to help the Gua Sha tool glide over your face. Do not attempt Gua Sha without oil!
Keep your Gua Sha flat on your skin and use gentle pressure.
Always anchor the skin where you begin each stroke using your other hand.
Start on the neck with upwards strokes then from the inside of the face to the hairline.
Drain the lymph with finishing strokes from your forehead moving down the collarbone.
Drink a glass of warm water after your session to help the body dispel toxins.
For deep relaxation, you can turn this ritual into a type of moving meditation by coordinating your breathing with the strokes.