CELEBRATING 10 YEARS OF MAGIC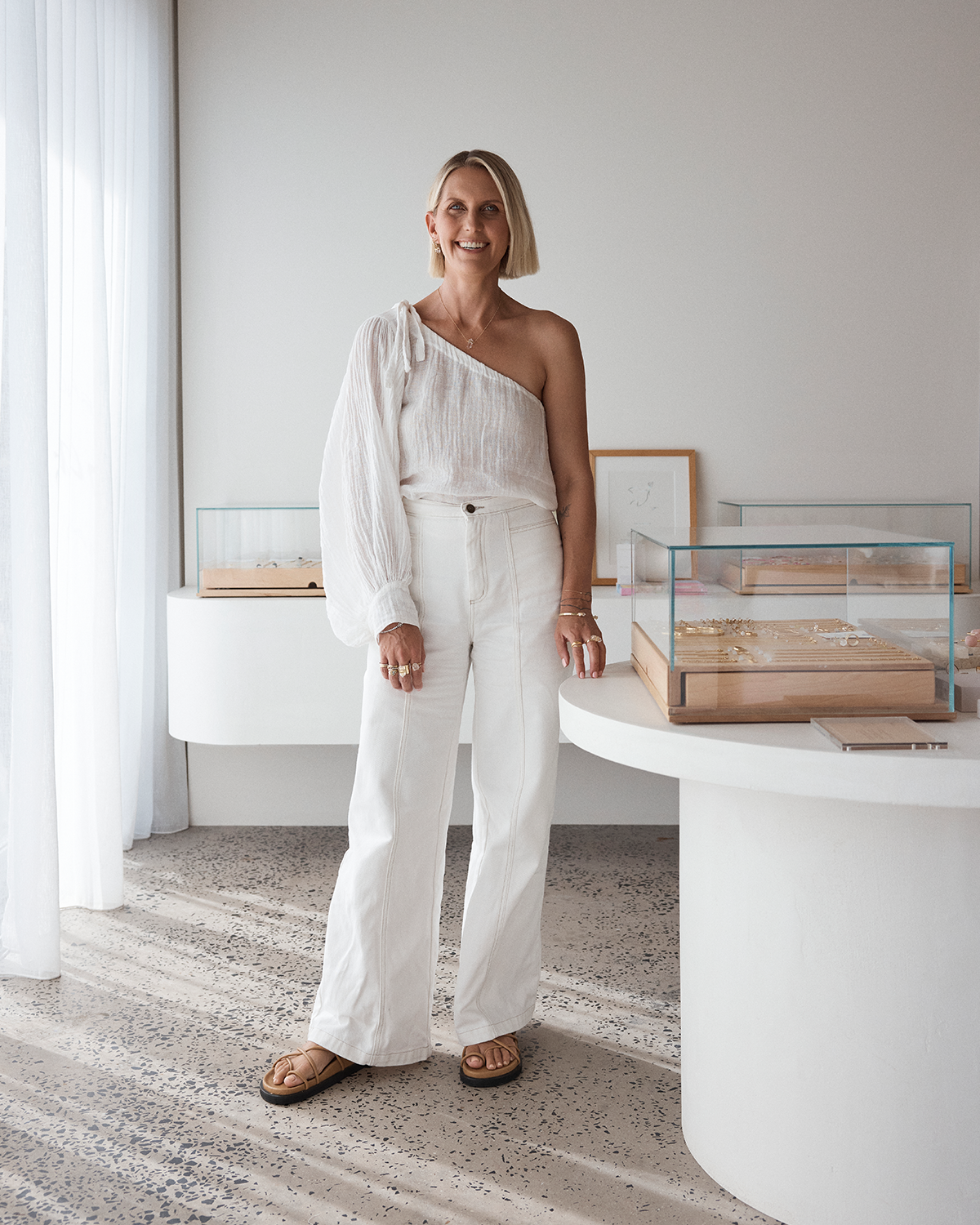 In celebration of 10 years of magic, we invite you to reflect on our journey through an interview with our director & the creative force behind KKJ, Krystle.
What empowered you to start KKJ all the way back in 2013?


In 2012, I was made redundant from a job in the fashion industry and decided to explore creating my own jewellery. I initially thought that KKJ would just be a small collection of personal pieces. However, I soon found myself in a much bigger venture than I could ever anticipated!
My love for clear quartz jewellery and raw crystals inspired me to create something different, I love beautifully clean cut clear quartz but it was something that I hadn't been able to find through my travels.
With a small inheritance from my late grandmother, the help of a family friend who introduced me to a man named Ahmad in Bali, & some hand drawn designs sent via email, a beautiful (very small) collection of hand-crafted clear quartz jewellery arrived on my door step.
With the help of friends around me, I was able to photograph and put together a look book of the collection which I then sent to my favourite stores that I had previously worked with over the years. From this, I was fortunate enough to gain my first 10 retailers!
For KKJ, I was lucky enough to begin the brand in the early days of Instagram when the platform was not as crowded as it is now. It was a time when brands could be discovered and grow organically.
You're celebrating 10 Years of magic, how does it feel to reach such a milestone?


I am incredibly grateful to my friends, family, customers, and retailers who have supported KKJ since the very beginning.
I can't believe it's already been 10 years. Time has flown, especially moving the brand from Sydney to Byron + creating 3 children in this time also!
You know that saying, "choose a job you love and you'll never work a day in your life"? That's exactly how I feel about KKJ.
What was the design process + inspiration behind the Decade collection?


It just felt like a natural decision to bring back some of KKJ's most iconic and beloved styles. These are designs that have been customer favourites or have been requested for us to bring back over the years.
While some of these designs have always been a part of our collection, I was excited to give them new life by offering them in gold vermeil (925 sterling silver over 18k heavy gold plating).
Is there a piece in the collection that you have a special connection to?


I love every single piece in this collection - they have been stand out favourite designs over the years & they are pieces that I still have in my personal collection at home.
I love our 10 year Anniversary Necklace; it is based of our Keep Me Calm Necklace - however made slightly more delicate + petite; for more of an every day wear piece however to be able to still keep the powerful quartz close by everyday. We only created 20 of each metal in this piece, which makes it even more special.
I also love our Oceanic neck + cuff piece. They are so timeless & perfect for a special occasion.

Talk us through the inspiration for the collections campaign shoot + the special people involved.


I had a clear vision of what I wanted from our Decade shoot. Clean, white + all about the crystal jewellery + our muse…. Oh & a statement eye!
When we first started out all those years ago, Yasmin Suteja was just starting out as well, as a photographer and business owner of Culture Machine. Despite having no budget, she generously photographed me wearing my jewellery (without my head haha) for our first look book, which we sent out to retailers.
In the following years, Yasmin has also built an incredible business, and it felt like things had come full circle to have her photographed in our space.
We also of course had our amazing team, who have helped us create magic over the years. Lynden, Harley, Phoebe & KKJ team.

What inspires you to continue to create + grow KKJ as a brand?


Staying connected with other women in business is so important to stay inspired and motivated, and to learn from each other's experiences.
I truly love what I do. I see the office & the shop as a second home.. my family is such a huge part of it, as well. You'll see kids running through the warehouse & office weekly or my partner hanging around with a new born needing to be fed.
And of course, my KKJ team… they are essential to the success of my business over the years. They have been endless support to work alongside to achieve these incredible goals.
What are some of the challenges you've faced in business over the past 10 years?


There have been plenty of highs & lows over the year + plenty of COSTLY mistakes, which is all in the learning of having a business. Plenty of tears have been shed!
Our business has been through covid, bush fires, flooding + the effects of post lock downs - & that is only in the past few years. These have been the most incredible but also the most challenging years to date.

What advice would you give to women wanting to start their own business?

Do it!
2023 is a totally different world than when I started in 2013, however there is so many incredible courses out there now & so many ways to get a business out into the world.
Also, talk to people that already own businesses! Listen, ask questions, learn, ask for guidance!

What does the future of KKJ look like + what can we expect to see from the brand?
We are forever evolving as a brand, the past few years have forced a lot of change, but with that has came a lot of growth + new knowledge. I'm excited for the future.
We launched some home crystal pieces this year, which our customers have loved – so keep an eye out for more of this.
You'll see endless clear quartz jewellery, some amazing collaborations coming up later in the year + some stunning new crystals featured.