the power of magic | christopher boots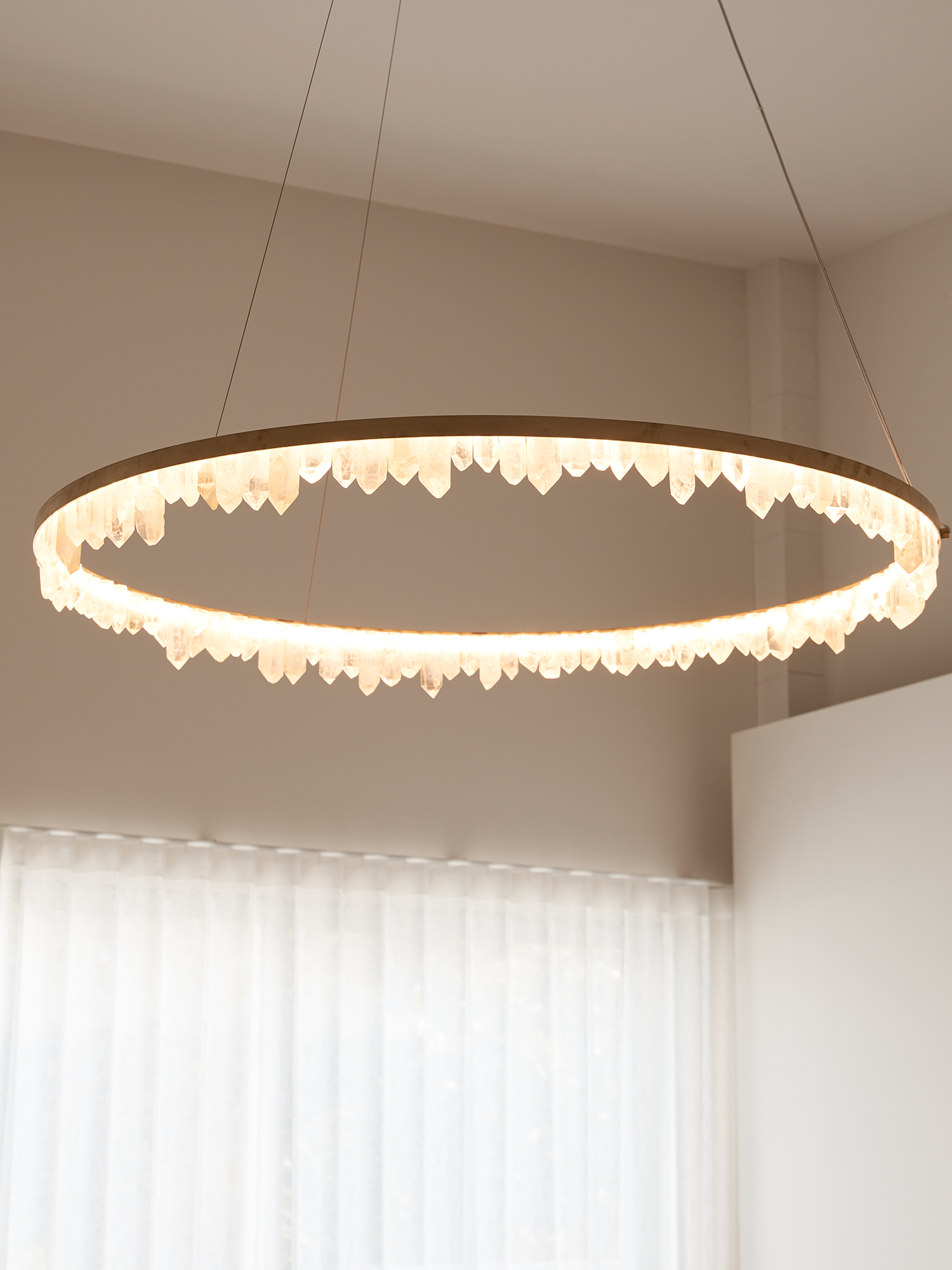 I feel so honoured to be able to share this piece of magic with you.
Christopher Boots is an incredible Industrial Designer based out of Melbourne.
What first drew me to Christopher's work is his insanely beautiful Clear Quartz + Brass lights which I dream of for my home, office, showroom, car or pretty much anywhere I could squeeze all of them into!
His work can be spotted all across the world in the most special of places.
Everything that Christopher & his team create are truly phenomenal.
And what I love even more; is that Christopher believes in the magic that we do too.

How did it all begin? 
Where did the love of shapes, architecture + lighting come from?
& what made you bring them all together with incredible pieces of nature?
I have always been curious about our natural world and my work - which includes lights, furniture and objects - explores the architecture and geometry of organic shapes found in plants, animals, and minerals.
Regular travel allows me an opportunity to actively explore new ideas, forms and materiality within my work. I am fortunate to have the creative freedom to explore multiple concept ideas simultaneously. 
Our exploration may culminate in a new component design based on an Art Deco piece I purchased at an antiques fair in Los Angeles or an entirely new range of products.  It is an ever evolving process.
I have noticed your pieces across the world.
What was one of the "pinch me moment" incredible places that your pieces have been custom made for?
Seeing my work hanging in the windows of Hermes in New York; that culmination of energies and dedication from the incredible and talented Christopher Boots team.  I think we were all pinching each other right up to completion and the opening. That moment changed everything for me both personally and professionally.
 Being a fellow lover of Clear Quartz; with this also being a signature crystal featured throughout Christopher Boots pieces. When were you first drawn to Clear Quartz + why?
I found a piece of quartz at the beach when I was a kid.  It was just laying there in the sand - tumbled and bruised but when you held it up to the light there was this whole other world inside. I was instantly fascinated - and that was that.
Are all pieces custom made to order? + where can people find you & also order?
 All pieces are made to order in Melbourne and sold around the world through a network of authorised distributors, agents and specialist galleries in Europe, Asia, the USA and here in Australia and NZ.
Our Atelier/showroom allows clients to see pieces from current collections alongside some of our signature pieces (Prometheus, Portals, etc).  
Interested clients may also get an opportunity to view pieces under production in our Workshop located nearby… all by appointment of course.
And our website - christopherboots.com - features our range of products with lots of inspiring images from beautiful installations and custom projects.
 Finally, why do you believe in the power of magic? 
Magic is all around us.  It's in the everyday - we just need to be aware of it, open to it and recognise it 
But what is more magical?  The spark of creation surely!  
From a fleeting glimpse of something possible in the mind's eye; that spark of an idea quickly coalescing itself through a sketch in my notebook.  Before I know it, there is an actual physical prototype sitting on my work table and when finally resolved - I have this finished object - installed, suspended, glowing, and real.